The License Registration tab presents various controls for license registration :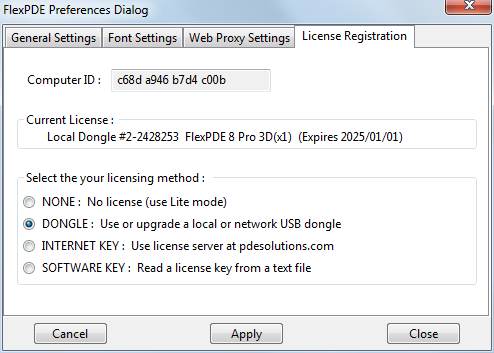 Computer ID
This text is the unique identification of your computer. It may be used to request a software key or trial license for FlexPDE Professional. It is also used automatically by the Internet Key license to identify the current computer. The ID is four groups of four hexadecimal numbers.
Current License
The current licensing information is displayed here. In the currently shown case, FlexPDE is registered to a local dongle. The dongle's serial number is 2-2428246 and it contains three licenses; 1-1D, 1-2D, and 1-3D.
License Method
Changes to the licensing method can be made here. Additional windows will open to complete the process. See note below and the section "Registering FlexPDE".
Note : any changes made will not take place until the "Apply" button is clicked. Clicking "Cancel" will discard any changes. Clicking "Close" will prompt the user if there are unsaved changes.